---
IPD Mentor comms.
An interview with Zarna Patel and Mike Best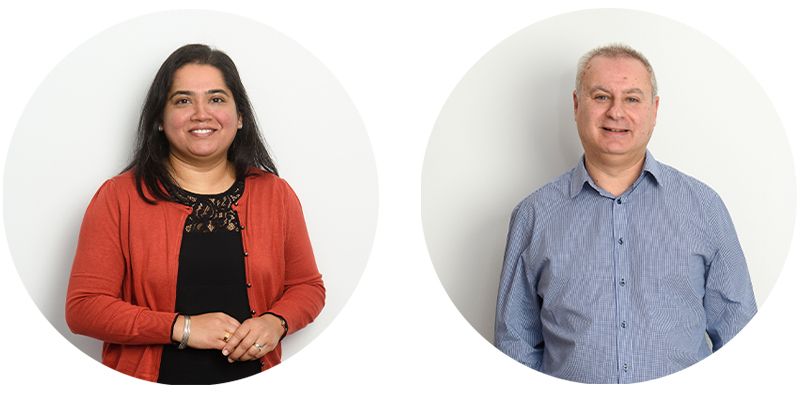 For many of our engineers, the firm's Initial Professional Development (IPD) scheme forms a crucial part of the early stages of their engineering careers. They're given plenty to do as they start their journey towards achieving professional registration, but they're not left to figure it out on their own.
Each candidate has a dedicated mentor and supervisor to guide them through their development. This, in itself, is not an easy task; it requires them to find time in their own busy schedules to provide guidance to our younger engineers.
We have an IPD Merit Award event each year to celebrate our exceptional candidates, but all too often our mentors' efforts go under the radar. We'd like to take this opportunity to thank them for all that they do and to let them know that their hard work is appreciated. Good mentors are the key to a running a successful IPD scheme; they are fundamental in developing our future generation of engineers.
We spoke to Zarna Patel and Mike Best and asked them if they have any nuggets of wisdom to impart after several years of successfully providing support as mentors.
What does being a mentor mean to you?
To me, mentoring is all about being a guiding force throughout the early stages of someone's career. It's important to help them determine what opportunities are out there and which ones will help them best move forward. It's also a chance to identify their strengths and helping them figure out how to capitalise on them.
The IPD scheme offers an incredible opportunity for our younger engineers to engage with the help and guidance that's available to support their professional development – I wish I'd had something like this when I was starting my career!
It's rewarding to be part of the process. When candidates are successful as a result of their commitment, it's extremely satisfying. Of course, when you see someone miss an opportunity it can be equally frustrating. Either way, I find myself very engaged with the development of my mentees.
Most of all, I enjoy the chance to motivate and educate, passing on my experience and helping to identify how a candidate can best progress with their learning and career.
What are some of the main challenges?
There is an element of competition when it comes to career progression; to some extent, candidates are in a race with their peers to move forward with their professional lives. This can make it frustrating when they are not engaged. As mentors, we're invested in their success and we hate to see opportunities pass them by.
Primarily, it's finding the time. It takes longer than people would think to be an effective mentor, but it's worth investing the time. It's always hard to find space in a busy day for things like this, but that's why the IPD scheme framework is so important to driving a candidate's development. Both sides need to put the effort in to get the most out of it.
What's the best thing about being a mentor?
It's incredibly satisfying to be the one to help a candidate realise their potential. I love the knowledge that I helped them achieve, or even surpass, their goals.
Playing a part in an individual's progress, especially when they apply to upgrade their CIBSE membership or for their IEng or CEng registration – and then being successful (certainly nothing to do with being offered celebratory cake…)
Any advice to engineers curently on the IPD scheme?
Keeping records of your on-the-job training will go a long way when you are ready for professional registration applications. The best way to go about it is to do little bits of record keeping as often as possible; don't leave it for one huge job.
The IPD scheme is there to help the you, the mentors are there to support your development and then help you achieve it. If you can stay motivated and embrace the process you will be successful.

Persevere – it's all worthwhile to get the professional recognition you deserve, so make use of the knowledge and experience of the senior people around you.
Any wisdom you've learned through being a mentor?
You should grab every opportunity you can and try to get out of your comfort zone, as this will enable you to push the boundaries and help you grow. However, this isn't necessarily a race and I would like people to keep things in context. If you're trying your hardest to succeed, then the speed at which you do so isn't the most important metric.
As a mentor, patience is key, and you shouldn't expect too much at each review meeting. The candidates have a busy schedule as well and the speed at which they progress is entirely up-to them. Plan ahead and give candidates sufficient time to prepare; encourage them to monitor their own progress and prepare evidence to show how they think they've developed.
I find that the review of a development action plan is a good way for an individual to assess themselves and see whether they are achieving their goals.
Above all, it's important to be available and approachable when a candidate needs help resolving a situation or finding a solution to a particular problem.