Urban forests, co-living, and skyscrapers on a diet.
Welcome to the future of city living.
Whether you get your thrills from pulsing urban energy, prefer the calm of countryside life, or the practicality of suburbia... cities are where new ways of living take root.
Our cities are where ideas grow, frustrations arise, and communities collide. It's been this way since we first began to come together in tribes. Where human beings gather, growth and progress accelerates. But cities are also clusters of constraints: size and space, the cost of living, transport infrastructure, historic building stock, not to mention environmental and health considerations.
Yet we human beings are a funny bunch. For it's often in constraints that our most creative thinking takes place. Tell us to think of a great idea, and we'd likely be paralysed by possibilities, but when working with restrictions, our brains kick in to gear. In the words of world-renowned architect Frank Gehry: "It's better to have some problem to work on... to turn those constraints into action."
So it's no wonder that these epicentres of constraint – our cities – are where we can look for insight into the future of urban living; where the problems we face are being turned into possibilities...
The challenge:
combatting the cost of housing.
As desirable business-centric places to live, cities draw a disproportionate share of a country's wealth and of the world's richest people. This almost always results in diverse communities (along with young, old, and vulnerable people) being driven out by the rising price of renting, buying, and living... and, subsequently, cities being 'suffocated by their own success'. The coming decades need a new approach to housing – one that ensures cities remain as places that support and enable all of society to thrive.
Co-living is a trend that's set to boom in the next 20 to 30 years. It's certainly a more cost-effective living option that will be open to city residents and beyond. While many might reel in horror at the thought of sharing spaces with more than 100 others, people throughout Europe are proving that the next generation feel a little differently. Berlin-based Quarters, a major European co-living company, has seen success with its model of pre-furnished bedrooms, shared common spaces, and amenities such as 24/7 laundry access, cleaning services, and community events. The benefits? People have more affordable access to cities and the flexibility to move between them, rather than being 'tied down' by one house purchase.
By comparison, WeWork, drawing on the principles of its global co-working spaces, recently unveiled a co-living project in Manhattan, where residents use a mobile app to agree flexible leases; book fitness classes, pay for cleaning/laundry, and organise potluck dinners.
Seema Mistry, Design and Technical Manager of Apartments for London, explains: "Urban design is all about the connections that you make for people, creating homes that are as friendly, engaging and interactive as possible.
I often talk to young people and students – those who should want to move to cities in the coming years – about what they want from a home. They put less emphasis on the individual apartment and more on all the other amenities: the socialising, working, and lifestyle that
an entire complex offers."
Ian Gow, Partner at Hoare Lea specialising in the Build-to-Rent market, adds: "In Germany and many other European countries, the majority of people rent long-term. The Build-to-Rent market is something that's been strong both there and in the U.S. and, based on some current projections, it's showing signs of significant growth over the next five years. For future generations who are already indicating a trend towards rejecting traditional home ownership – whether that be through necessity or lifestyle choice – the community and convenience aspects of this way of living are really attractive."
Adding to the hype around different ways of living, Airbnb co-founder Joe Gebbia recently launched an initiative to prototype new ways that homes can be designed and built. The aim is for those homes to be shared by multiple people at different times and thoughtfully respond to changing owner or occupant needs. He explains: "Airbnb helped people activate underutilised space. We're using the same lens – the potential of space – and applying it more broadly to architecture and construction to ask, what does a home that is designed and built for sharing actually look and feel like?
How can a home respond to the needs of many inhabitants over a long period of time? Can it support and reflect the tremendous diversity of human experience? Can we accomplish this without filling landfills with waste?"
A completely different route to cheaper housing could come via 3D printing. The world's first 3D-printed concrete smart houses are soon to be available for rent in Eindhoven. Called Project Milestone, the homes fulfil the criteria of the strict Dutch building code that spans everything from comfort and layout to sustainability requirements. With an exceptional rate of production possible for 3D-printed housing (both on and offsite), construction costs should fall dramatically and – in theory – translate into affordable on-demand quality housing for future generations.
The challenge:
"There's just not enough space."
According to the United Nations, the world population is expected to reach
9.8 billion people by 2050, 70 percent of which is likely to live in urban areas
and cities. With reports that there are a total of 1.3 million people moving into cities across the globe every week, even if the housing market could keep up, is there enough space to accommodate the required rate of growth?
"It's possible that future city residents will have grown accustomed to more compact living," says Ian Gow. "There's a lot that can be learned from residences in cities such as New York and Hong Kong, where compact living has been embraced. Flexible co-living spaces will help with this, but I also think smaller homes will be designed to stricter guidelines than we have now around daylight, outdoor access, biophilic design, and other wellbeing measures."
One thing is also clear; single-use buildings are dead. Or, if you prefer a less sensationalist statement, let's say they're in the process of dying. Single-use buildings are being replaced with hybrid destinations and multi-use districts. Already, the annual Design Forecast from the Gensler Research Institute has shown that the mixed-use living environments we're seeing "unlock the possibilities of a diverse, urban lifestyle and breathe new life into cities".
Will future city-centre homes become blended spaces where hotel guests come and go, where people work flexibly, eat, drink, socialise, study, shop, and even receive healthcare? Seema Mistry believes this will be the case: "We'll start to see more housing developments that can provide student living, flexible workplace and residential spaces, retirement living, and even co-living. From a developer's point of view, it will be about de-risking the lifecycle of the building by making sure it can flex with different demands."
Of course, high-rises are likely to get slimmer and taller. In fact, one of New York's newest skyscrapers, dubbed "the world's skinniest skyscraper" is set to complete this year. However, it's worth noting that often it's dense and mid-rise buildings that are held up as leading examples of good city planning.
We're also already seeing innovative solutions that could create homes in more unusual places. The recent Out of Thin Air – One Year On study identified the area of land associated with all exposed rail tracks in London's 1-6 fare zone. If a conservative 10 percent of the space had 12-storey-high buildings, 280,000 new homes could be created. There are serious noise, vibration, ventilation and associated air quality issues to resolve with this, but it's a distinct possibility for our future cities.
Meanwhile, Apartments for London is already attempting to tackle the city's current housing crisis by unlocking opportunities in existing structures: carparks. The offsite-manufactured fully-fitted apartments can be developed above existing carparking sites. Seema explains: "Our CEO found that, when his kids moved to London, they were spending the vast majority of their income on rent and weren't left with what they needed to go out and enjoy what London has to offer. So for us, unlocking under-used space is all about creating affordable housing to keep the city sustainable – it won't grow if young people can't afford to move here.
"It's not hard to build above a carpark; there are plenty of shopping centres etc that already do that, but we wanted to do it as quickly and efficiently as possible. In turn, we then leave that carpark in operation – delivering a better facility back to the public sector. Private companies collaborating with the public sector in this way could be key to unlocking city-wide development at scale and providing a win-win for all."
And what if there's eventually no land left in our cities? In Nassauhaven, a neighbourhood of floating homes in unused harbours is currently being designed. Lightweight aluminium-framed and timber-clad homes will float on a platform of 'unsinkable' concrete and polystyrene, which rises and falls with
the tide by about two metres each day. It seems expanding onto water – whether rivers, harbours, or newly-created bays – is a distinct possibility.
The challenge:
mitigating and adapting to a changing climate.
The world's cities occupy just three percent of the earth's land, yet account for 75 percent of carbon emissions and 60-80 percent of energy consumption. Based on current projections from the UN, 2.5 trillion square feet of new buildings will be constructed worldwide by 2060 – the equivalent of adding another Paris to the planet every single week. If we continue with a 'business as usual' mentality, sea levels are predicted to rise by approximately one metre, along with a predicted average temperature increase of 4°C by the end of the century. While global initiatives (such as the Paris Agreement and the move to a circular economy) should help mitigate these figures to less extremes, the associated impacts of the inevitable change in climate have to be planned for.
Climate change is the ultimate incentive for innovative urban design – and when it's viewed not just as a problem but as driving force for creativity, it can provide a fast-track route to better ways of living. Across the globe, there are investigations into how urban living needs to adapt in the face of an uncertain future.
A new Global Centre of Excellence on Climate Adaptation based in Rotterdam is looking at how cities can be reimagined. As a collaborative project between the Netherlands, the UN, and Japan, it's leading a shift in thinking: instead of working against a changing climate, why not re-engineer cities to work with it?
Rotterdam, for example, now has five water plazas dotted throughout the city. These plazas act as community hubs in dry weather and, in heavy rain, hold up to 1.7 million litres of excess water. This adaptive approach was made possible by combining budgets for storm water infrastructures and liveable public spaces.
Probably the most reaffirming view of future urban living is that sustainable buildings are becoming 'sexy' – stunning even. The practicalities of net-zero homes that can adapt to a changing climate won't mean compromises on style and quality of space. In fact, the trend towards biophilic design and Blue-Green infrastructure (BGI) offers a people-centric, feasible and valuable solution for urban areas facing the challenges of flooding, overheating, and other extreme weather.
Taking this further, our homes might even be designed to meet collective climate rights of future generations.
There are intrinsic links between climate change and human rights, and there is an increasing argument for human rights to play a leading role in guiding global responses to climate change. This is likely to result in policy created around the rights of future generations: for anything from a hospitable indoor/outfoor environment, to a plant that provides a full quality of life.
One of Rotterdam's five water plazas.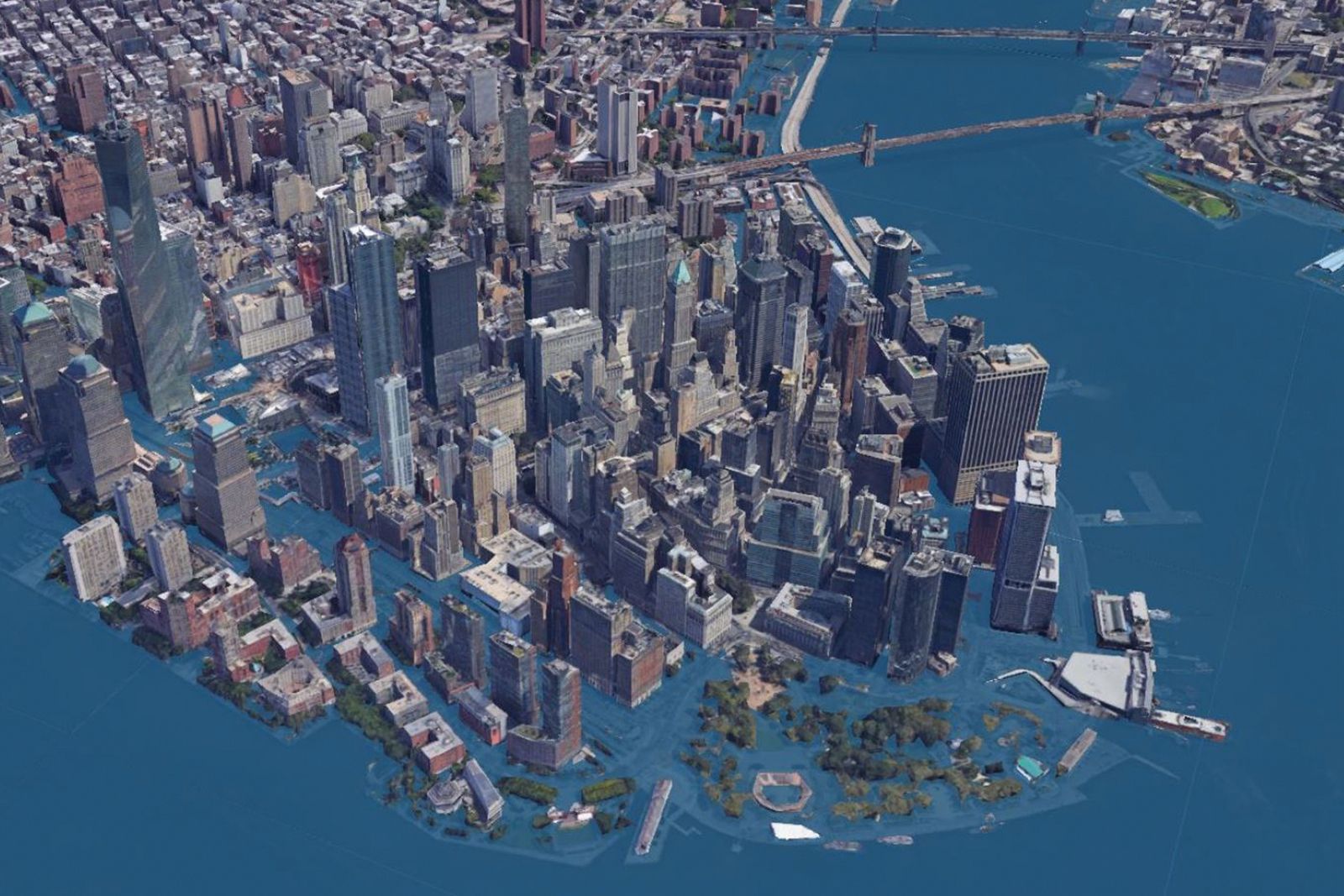 Visualisation of a flooded Manhattan.
The challenge:
ensuring human health and happiness.
A recent World Health Organisation
study that found that 80-90 percent of our health outcomes are intimately tied to where and how we live. As spaces shrink, buildings get higher, and city dwellers' lives become more digitised, the health and wellbeing argument only grows. As of 2016, 90 percent of urban dwellers have been breathing unsafe air, while more than half of the global urban population was exposed to air pollution levels at least 2.5 times higher than the safety standard. And our needs don't stop at better air quality: useable green spaces, comfortable environments, biophilic design, daylight exposure, reduced noise pollution, sustainable commuting choices, access to community spaces, and the desire for human connection all need to be considered in the context of our future cities.
An interesting view on where the future of living might take us in terms of design comes from Adrian Lahoud, dean of the school of architecture at the Royal College of Art in London. He says: "I think there's going to be an attempt to rethink architecture beyond a Western European framework. Shelter, for example, assumes that there is a distinction between ourselves and the environment; that the environment is a threat and we have to be protected from it, but not all societies see their relationship to the environment in the same way."
The rapid urban development in China certainly gives the West an example when it comes to living. The British Council's Li Ying believes collaboration between the UK and China could benefit both sides:
"Chinese architecture is defined by diversity. It takes inspiration from home and abroad, and embraces both traditional and contemporary elements. Due to the scale and speed of urban development, it also increasingly embodies technological innovation, most notably digital influences and green architecture for energy savings."
This green architecture will likely extend to us having 'living breathing' homes as standard. The explosion of biophilic design into the workplace will no doubt reach the residential sector soon, as the evidence for its benefits becomes more mainstream. When research by the Harvard T.H. Chan School of Public Health shows that cleaner, fresher air created through indoor plants can nearly double people's cognitive performance and relieve stress, then it's only a matter of time before this extends to our homes.
Taking this further, we could even see 'wellness neighbourhoods' dotted across cities. The wellness village concept, which is currently springing up in rural neighbourhoods, has already become a billion-dollar industry worldwide, expected to grow to $180 billion by 2022. In cities, the concept could result in mixed-use centres dedicated to holistic health and wellness – where spaces are designed to support residents' physical and emotional wellbeing.
Meanwhile, for nature lovers, the countryside might no longer be the only option. In our future cities many of us could be living close to, or even inside, newly planted urban forests – allowing us to take in the wellbeing benefits of daily 'forest bathing' (aka absorbing the calming effects of trees), which is now one of the cornerstones of Japanese healthcare.
Cities have also woken up to the extensive advantages that tree planting can provide on a practical level – from protecting against flooding and the overheating effects of heat waves, to reduced air pollution. Even by the end of the century, it's unlikely we'll ever have found a structure with benefits that match those of the humble tree.
Ultimately, our cities have the potential to usher in a new era of wellbeing, resource efficiency, and economic growth. It's no coincidence that almost all of the possibilities explored here will provide a stronger community connection and interaction between people. Whether it's co-living, wellness neighbourhoods, or climate-adaptive homes – they all embrace a way of life centred around a diverse, multi-generational community. The future of urban living, it seems, is all about connection to our natural environment and closer connection to one another.