Project spotlight.
1 New Street Square.
---
As a society, we're understanding more and more about the impact of our internal environments. When designed intelligently, efficiently, and with users at their heart, workplace buildings allow people to thrive, directly contributing to the success of a business.
Enter Deloitte: a multi-national firm and one of the Big Four, who wanted to develop a new UK and North-West Europe HQ at 1 New Street Square, London. When they said they needed their new office to "drive cultural change", they had the ability to put their money where their mouth was, allowing us to help design an industry-defining workplace.
"Deloitte's commitment was clear from the outset. We set out on the journey united by our collective vision for what the building could achieve."
- Ashley Bateson
World first.
Deloitte needed to be able to attract and retain the best talent in the industry. To facilitate this, our task was to ensure the design of an environmentally sustainable and human-centred workplace – where the health and wellbeing of those people was paramount.
This translated into a truly ambitious target: to create the world's first workplace fit-out to achieve both BREEAM Outstanding and WELL Certified Gold.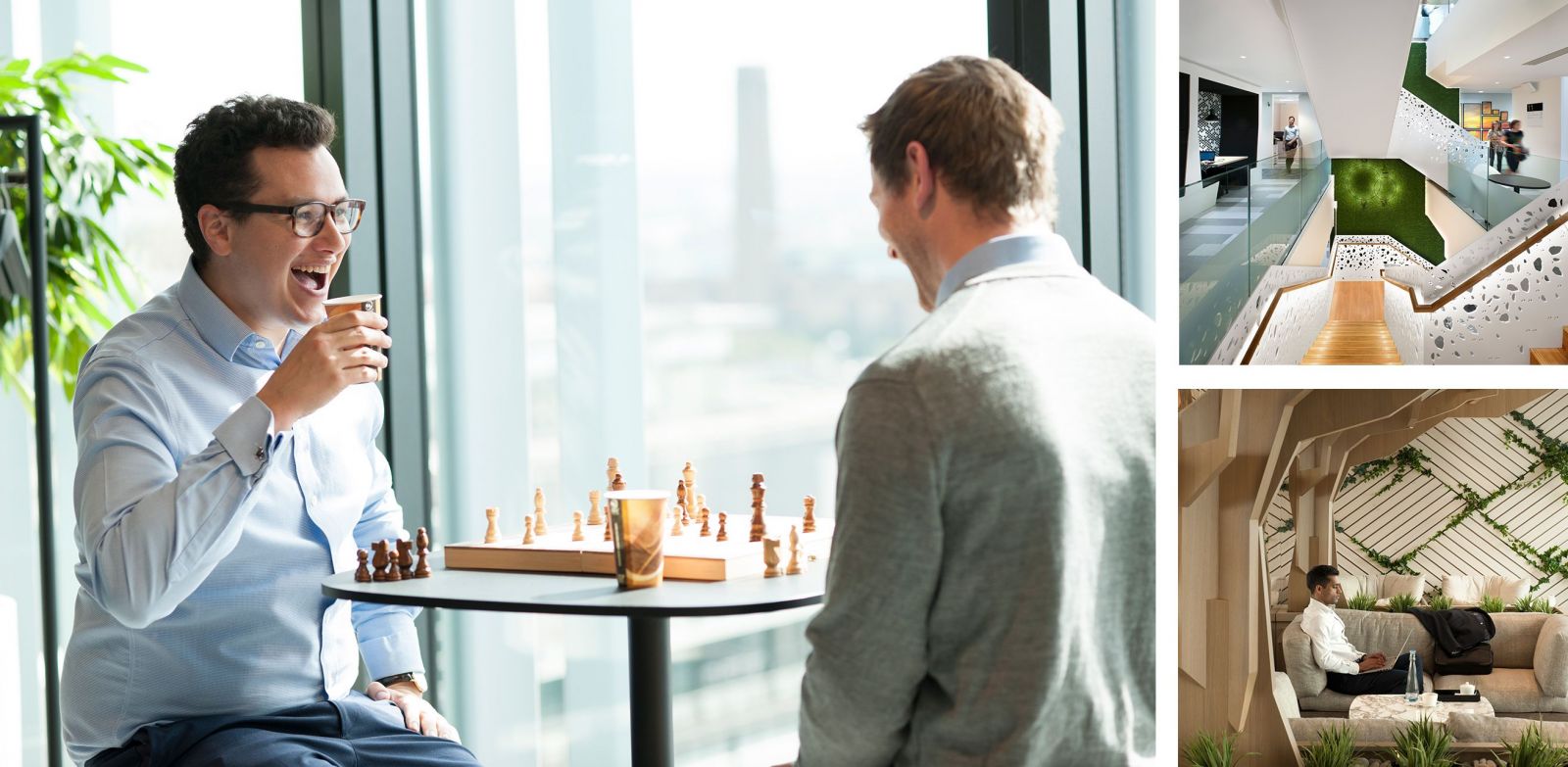 Learning together.
The ambitious targets for sustainability and wellbeing required input from almost every one of our specialisms. So, in addition to our Sustainability and Performance groups, our Acoustics, Intelligent Buildings, Lighting Design, MEP, Security, and Vertical Transportation teams each had their own goals to achieve.
There was a steep learning curve, but together we were able to provide consistent and practical advice. The aspirational nature of the project drove an enhanced level of collaboration between the project team, and we developed close connections with the client and architect, as well as the technical team at the International WELL Building Institute.
Light and sound.
An array of different types of spaces were identified and required unique lighting and acoustic environments. It was immediately clear that Deloitte had specific ideas for how each space would sound, and the need for privacy between different areas was critical. In response, we presented audio simulations or 'auralisations', which allowed the client to hear what each space would sound like, well ahead of time.
Intelligent working.
Early on, our Intelligent Buildings Group got to grips with user journeys throughout the workspace, accounting for everything required for a truly smart building. With 4,000 fewer workstations than employees based at the London campus, Deloitte needed both the building and its people to work efficiently and easily. The sophisticated system that the team developed utilises the building's data to constantly monitor and optimise how the different work areas are used.
The platform is so agile that it's appropriate to think of the building as a group of software platforms. Room controls and content can be changed by updating software and apps can be built 'on top' of the platform. From kiosks in the building's entrance that provide workspace availability, to integrated room-booking software, the intelligent design is one of the first projects in the UK to deliver building integrations of this nature, and at this scale.
Built to perform.
Much of 1 New Street Square's sustainable credibility is down to our appointment as Building Performance Manager throughout the development. Our aftercare team provided support to both the client and contractor, and also worked hand-in-hand with the Facilities Maintenance team to promote a smooth operation.
And our performance support doesn't stop there: 620 sensors now monitor the quality of the indoor environment: from air particulates, chemicals and acoustics to the daylight levels and temperature. It was a first for a project of this type, and allows us to continuously optimise the building, ensuring it delivers the best possible environment for Deloitte's people.
"You have been instrumental in helping us to create workable solutions to deliver our aspirational intelligent building, within a challenging business and contractual environment."
- Technology Programme Manager, Deloitte LLP
Facts and figures.
1st
office fit-out in the world to attain BREEAM Outstanding and WELL Certified Gold worldwide.
600
sit/stand desks to improve comfort.
15
types of acoustic treatment.
1,020
IoT machine vision occupancy sensors.
"Gaining BREEAM Outstanding is challenging, but to exceed it by nearly 10% while also achieving WELL Certified Gold is simply tremendous. We couldn't have hoped for better."
- Gavin Harrison, Senior Manager, Workplace Services and Real Estate, Deloitte
Lead partner: Mark Ryder