Project spotlight.
Gasholders, London.
Situated within King's Cross, Gasholders is an iconic development of premium apartments and retail spaces set within three Grade I listed gas cylinder frames.
A gasholder, or gasometer, is a large container in which natural gas or town gas is stored. Typical volumes for large gas holders are about 50,000 cubic metres (1,800,000 cu ft), with 60 metres (200 ft) diameter structures.
Gasholders now tend to be used for balancing purposes, to ensure gas pipes can be operated within a safe range of pressures, rather than for actually storing gas for later use.
East Greenwich gasholders
Constructed of cast iron columns, the frame for the gasholders in London was erected in 1867 and later enlarged in 1880 with new interconnected guide frames and telescopic lifts. At the time, giving a new life to these remarkable Grade II listed structures demanded the expertise (and two years of work) of the highly skilled team at Shepley Engineers, a Yorkshire-based firm that had also worked on the refurbishment of the roof of St Pancras station.
The 145 apartments benefit from a stunning canal-side location, with communal roof gardens, and an array of amenities elegantly furnished and dressed by London-based interior designer, No12 Studio. Amenities include a spa and gym, a residents' lounge, and a sophisticated entertainment suite that houses a private dining room and catering kitchen, plus 14-person screening room and adjacent games room.
The developer, Argent, considers Gasholders to be the prime and most valuable residential site in the overall King's Cross development. We were tasked with ensuring that the engineering solutions complemented and showcased the scheme's unique architectural form.
Our Acoustics, Daylighting, Fire Engineering, MEP, Sustainability and Vertical Transportation teams all worked on the project. Each service provided was vital for the client to realise their vision and create these apartments within a unique form, as well as accounting for external complications, such as the neighbouring railway line. Argent placed a key emphasis on coordination between the disciplines and knew we were best place to offer a self-managed joined-up approach.
We had to find solutions that complemented the affect the external frame had on daylight, the atypical wedge-shaped apartments, the fire engineering and ventilation for the atria, and a district cooling strategy.
By taking responsibility of so many services, we were able to undertake an iterative design process, providing a consistent voice for the architect and client, while collaborating closely with the design team.
District cooling: Several on-site cooling options were considered but none of them were able to meet the client's requirements. A chance conversation led to discussions about the potential for a district cooling system, and we demonstrated how it could be seamlessly incorporated. In fact, our design for Gasholders actually helped drive Argent's decision to install a district cooling scheme for the overall King's Cross site.
Car park ventilation: The client was adamant that the louvres couldn't be incorporated in the façade or landscaping above the basement car park (understandable, considering the beautiful landscaping). We took a walk around around the site and discovered a discharge route below a bridge overlooking the canal which offered full concealment. A win-win for everyone.
The Gasholders were also held up by the BBC as a great example of good external shading design, with the buildings featured as part of a look at overheating within buildings.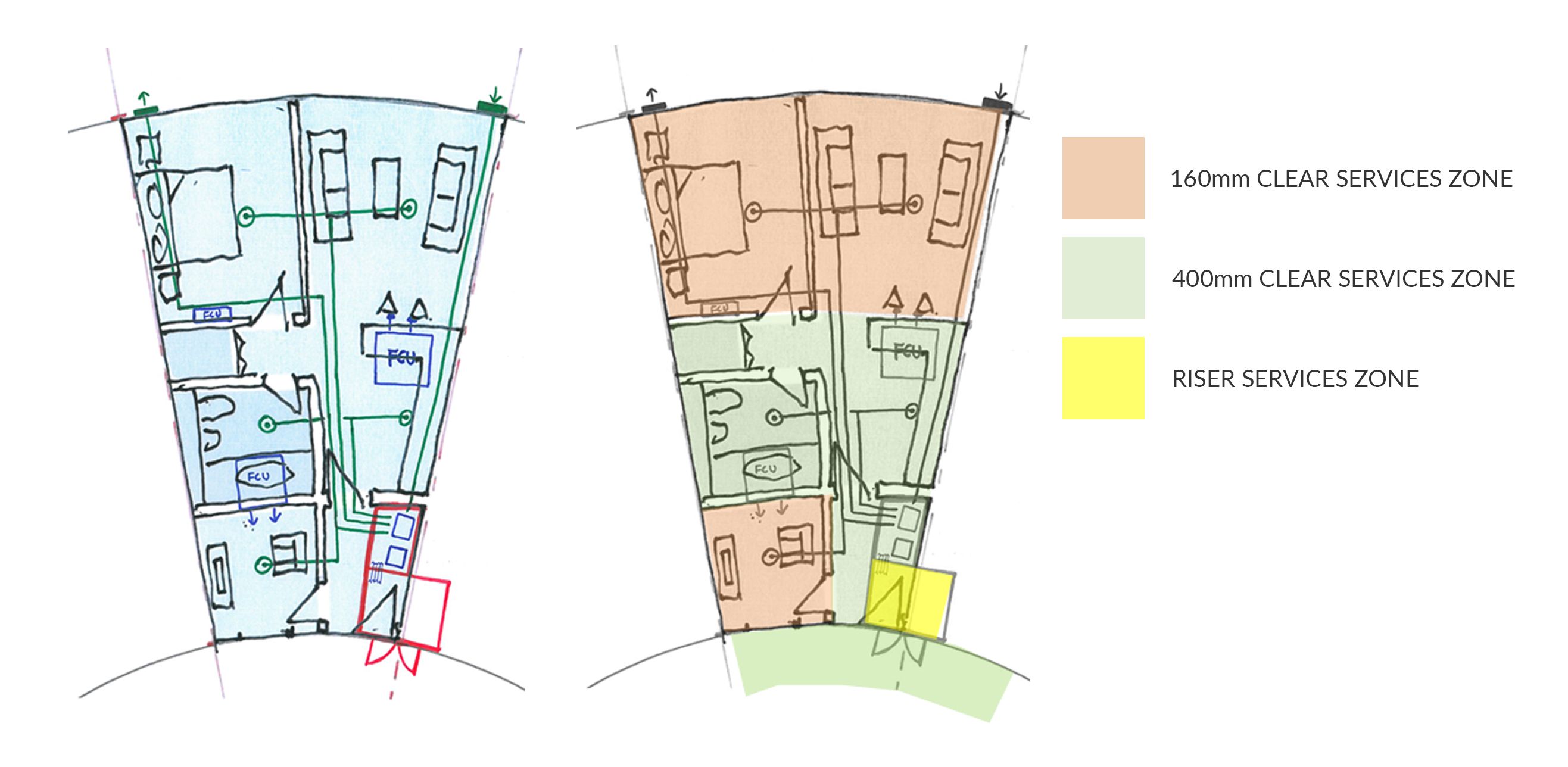 The internal atrium design was a key aspect of the architectural vision and we supported this from the early stages, looking at various services distribution options that best suited the space. The chosen option was a traditional high-level service zone in the common area walkway with service cupboards accessible from the landlord area.
For further information about this project, please get in touch with Alan Featherstone.