Crescendo.
For most of us, being widely regarded as one of the finest musicians of your generation would be enough of an achievement to retire on. Not for Julian Lloyd Webber... his bar is higher than ever.
One of the most celebrated British cellists, a much lauded conductor, and passionate campaigner for access to music... when Julian Lloyd Webber became the Principal of Royal Birmingham Conservatoire, it gained a leader dedicated to steering the future of music education in an positive new direction.
---
Q: There's a wonderful quote from you: "if there is one single thread that has run through my life as a musician, it is my resolute belief that music is for everyone." How has this belief driven your work campaigning for government investment in music education?
JLW: I took up the fight because our children deserve better options than just a very few narrow subjects. Sadly, many jobs will be lost to automation in future – NONE will be lost in the arts, where performance can never be replaced.
Access to music education should never be limited to those that can afford expensive tuition or instruments. There seems to be a recurring threat to arts subjects in terms of them being removed from school curriculums, and all we can do is continue to speak out; I just wish I could say the people who need to listen are listening!
As founder of Sistema England (a charity that seeks to transform the lives of children, young people and their communities through the power of music making), you have demonstrated music's incredible effect on both personal and community development. What have you taken from the experience and what do you think others can learn from it?
JLW: I've seen first-hand how access to music can lead to incredible change in communities. For example, the Sistema England project in Lambeth transformed relations between two schools where tension and gang culture had been a major problem. Thinking more widely about the lessons learnt, I think businesses are hopefully seeing how employable musicians are, with skillsets that are valuable in many areas of work. The skills our students learn set them up to be attractive candidates in a wide range of areas. Music has been shown to use parts of the brain and coordination that are not often used otherwise. And of course the dedication our students are required to show during their training is evidence of their commitment to working hard and achieving highly, which they can take into any career and be successful.
If you had to recommend one piece of 'classical' music to someone who doesn't consider themselves a fan of the genre, what would it be and why?
JLW: Well the term classical covers 600 years of music! I'd recommend any artist who speaks directly to the audience and communicates their message clearly, and with feeling and emotion. Perhaps particularly the Russian composers such as Tchaikovsky, Rachmaninov, and Shostakovich.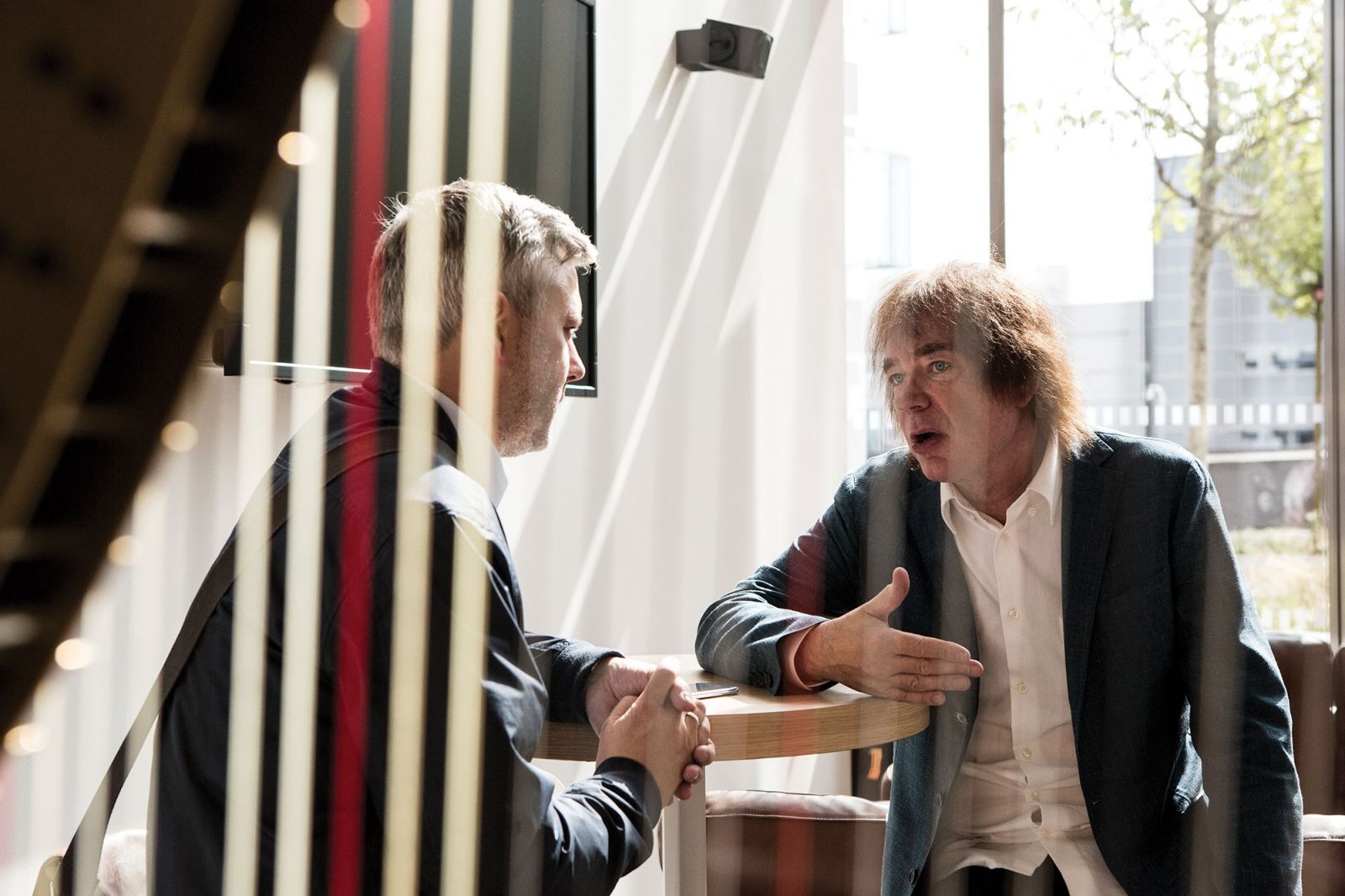 Is there any music we'd be surprised to learn you enjoy, or indeed that you were surprised by?
JLW: I really enjoy early rock and roll – listening to Buddy Holly and Elvis in particular.
I appreciate any artist who is able to communicate effectively with their audience. Music is about communication, not about any particular genre.
As a musician, what do you feel are the mix of elements that need to come together for people to perform at their best for an audience?
JLW: I would say that music and sport are very similar: in order to achieve your best you have to be well prepared, and in the right frame of mind. A musician needs to learn to apply the nerves and adrenalin that come with performance to their advantage; make them work for you, rather than against you.
In 2001, you were granted the first busker's licence on the London Underground. How did that come about and what made you want to play that space?
JLW: Busking on the London Underground used to be illegal and there was some terrible music going on! However, Transport for London decided to launch a scheme to make it official and improve the quality of the music so I helped support that.
The standard of busking is high now, and some artists have gone on to really great things using busking as their launchpad. I find busking gives artists the opportunity to reach more people, and you can see real potential in many of the artists that you hear on city streets.
I think our challenge now is raising the awareness of what we can offer and encouraging people to travel outside of London to find it!
---
You sadly had to retire from public performance due to injury: how has your role as Principal at Royal Birmingham Conservatoire helped with this change in your life?
JLW: I had always worked in music education and had an interest in making it accessible to all, no matter what their background. How I have moved on since retiring as a performing musician is, in fact, an example of how musicians have to be adaptable; it's so important to have well-rounded training and an attitude that will make you resilient no matter what happens in your career.
I think it's important that musicians are interested in a broad range of areas across the industry from the start, as that will make for a longer career.
The Conservatoire is fundamental to the UK retaining and nurturing its musical talent. Does being Principal come with a certain amount of pressure?
JLW: Our recruitment figures are stronger than ever so the pressure doesn't come from the quantity of applications. However, we're always looking to raise our profile as an institution and to ensure we're identifying and accepting the highest quality musicians to be found both nationally and internationally.
It's certainly an exciting time to be Principal of such a high achieving institution!
Do you have a 'typical' day in your role as Principal?
JLW: There is definitely no average day! Each day brings its own challenges. Some days I might be working with our students, and others I might be meeting influential contacts in a bid to raise our profile and generate support for the Conservatoire. Every day is different!
Congratulations on Royal Birmingham Conservatoire being given a Royal title. How did that come about?
JLW: The honour came from recognition of the continued excellence of the Conservatoire's work. HRH The Earl of Wessex became our Royal Patron in May 2016 and his continued support played a major part in us receiving the Royal title, the announcement of which coincided with the opening of our new building.
How does the musical education you're helping craft at Royal Birmingham Conservatoire differ from the one you experienced as a student?
JLW: We work hard to convey a welcoming atmosphere here, and a strong sense of community spirit. Tutors and students alike work to help and support each other and we are proud of that sense of family that we have created. Everybody here cares for the Conservatoire and is working towards the same goal – we want to achieve success for all.
You've written eloquently about your father, saying "he loved the company of young people. He adored his students and, today, many testify to his personal help and kindness." Has this influenced you at all in how you've approached the role of Principal?
JLW: Certainly. I always enjoyed his stories about life at his music college and felt inspired by his passion for teaching. I think I learnt the importance of passing on knowledge and experience to others from my father, and supporting the next generation in their own endeavours.
Do you have a favourite space in the building?
JLW: We have recently named our concert hall The Bradshaw Hall to reflect a major donation and the ongoing support of local Birmingham philanthropist Dr Keith Bradshaw, and I think I'd have to say the hall is my favourite space; although all of the five performance spaces have such distinct characters it's hard to choose! The Bradshaw Hall is certainly the jewel in our crown though, it really takes your breath away upon first sight. When I arrived as Principal in 2015 much of the design was already finalised; however, I had the opportunity to make some suggestions and influence some of the detail – I felt it was important to make sure the new space's atmosphere was both welcoming and confident. We needed to have a building that was self-assured in its presence, and it needed to be timeless rather than appearing dated after a few years.
What hopes and aims do you have for Royal Birmingham Conservatoire's future?
JLW: The sky is the limit in terms of what we can achieve together! I believe we now have the best facilities of any conservatoire in the UK, and the standard of our students is the highest it's ever been. So I think our challenge now is raising the awareness of what we can offer and encouraging people to travel outside of London to find it!
Finally, what excites you both in and outside of the music world right now? Is there anything you're seeing happening elsewhere in other industries or geographies that might change things?
JLW: I think we're seeing classical music exploding in the Far East at the moment and that is encouraging. The world is becoming better connected and we're reaching a global audience now.
I also think that the development of HS2 will open up Birmingham and encourage more people to this wonderful city with its vibrant cultural landscape – it really has so much to offer, and it's a very exciting time to be in the Midlands.
LET'S TALK